ROOPERT computer glasses - glasses for working on your computer!
Why do I need glasses for computer work?
We live in a time when everyday life is unthinkable without digital screens. Studies show that excessive blue light exposure from digital screens has health consequences.
That's why we've developed unique glasses for computer use for both non-glass wearers and those who need prescription glasses. ROOPERT computer glasses - glasses for working on the computer!
Wearing ROOPERT goggles You:
 Reduce fatigue 
 Improve your sleep 
 Protect your eyesight
The new ROOPERT collection is now available in Latvia with free delivery in 1-3 days!
See ROOPERT reviews Here!
Why choose our computer glasses?
I bought the glasses some time ago and they wear well. quality products!
Now I have ROOPERT computer glasses as well as ROOPERT sunglasses for sunny days ☀️ Come and try them on in a cool atmosphere! 🤩
Very good glasses. Work perfectly and very comfortable. Wide range of products and very responsive and helpful staff!
Patricija Prindule
24/03/2022
This is a place I definitely recommend to everyone! The staff is excellent! Very responsive, will help you choose the right glasses for you and at the same time answer all your questions. 🙂
Richard Carklin
19/03/2022
Polite, knowledgeable consultant. Helped me find the best pair of computer glasses for my style of dress and face shape.
The computer glasses have become a valuable companion. I recommend!
Nice client service and prices.All models are available for fitting.
The best service! Excellent quality and care for every customer. Roopert does what it loves and it shows in every single thing! A fantastic person to come into the store and not only try on glasses but just have a chat with! Thank you, I love these computer glasses! I will definitely buy more, I will keep an eye out for new products! ♡
TheRobcisLV progaymer
26/02/2022
I ordered a pair of computer glasses, they arrived within a few days, I like them very much, the price is very good, if you are looking for computer glasses, sunglasses or just glasses, I highly recommend roopert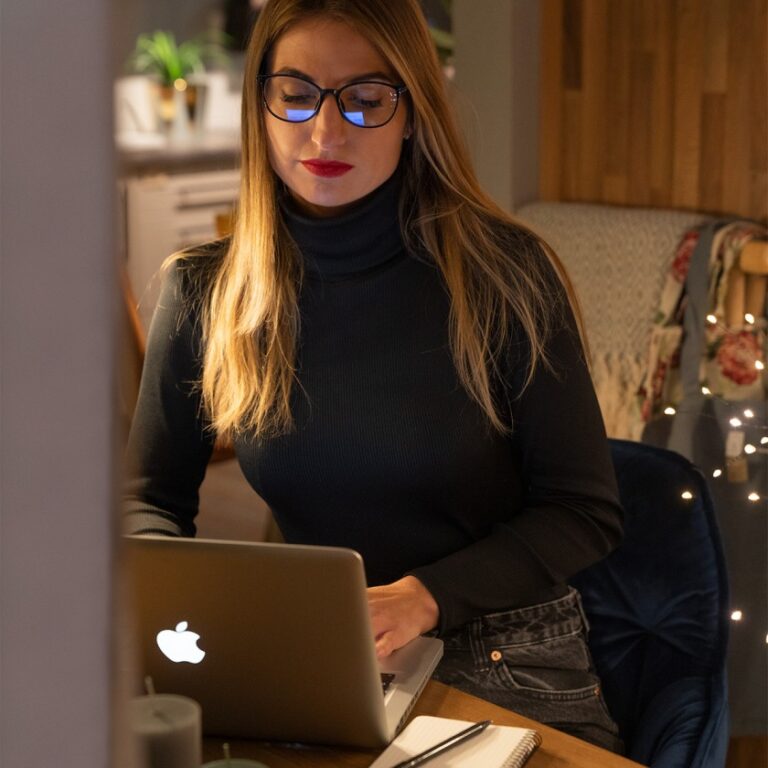 What is the harm of prolonged use of screens without computer glasses?
Of course, we can't really avoid using computers and other screens, and there are no major risks or problems in using them temporarily. However, prolonged use of screens can lead to various eye problems, which may have already been reported.
Here are the most common problems that can arise from excessive use of screens:
Dry and strained eyes. The most common problem, characterised by a burning and stinging sensation in the eyes, as well as redness and irritation to light. These symptoms can lead to computer vision syndrome. It is characterised by headaches, blurred vision and trigger pain.
Jittery sleep. Harvard researchers have discovered (read the article here) that spending six hours a day in front of different screens can shift the sleep cycle by up to 3 hours more than usual. Also, the blue light from screens significantly reduces the hormone melatonin, which is vital for a good night's sleep.
Tired eyes. Dry eyes and computer vision syndrome are not the only eye problems that can occur with prolonged screen use. Tired eyes are a problem that can occur frequently. They make it difficult to concentrate at work or in other activities.
Vision problems. Unfortunately, once your eyes start to suffer, vision problems are only a matter of time. It is common for vision to deteriorate with age, but excessive screen use can, and often does, accelerate this process. Therefore, if you work with a computer every day, you need to act early and take care of your eyes and vision.
Choose ROOPERT computer glasses - glasses for working on your computer! Click here and check out the available eyewear models!